Digital marketing is an essential piece of any modern business, but a massive amount of information on the internet can make getting started overwhelming. This article will show you exactly where to get started simply and effectively and build an early marketing strategy for the best return on your investment in your business.
Branding Your Business
Branding is the "look" of a company, including things like a logo, badges/patches and every asset that portrays you to the public. Your brand is what every potential client will see first when they start their search for your services. Because of this, it's important that you put some thought into your brand.
Don't read too much into your logo. There are three basic things you want to keep in mind when creating a new logo: be distinctive, memorable, and clear. This article will guide you more on brand development
If you already have a logo that isn't these things, it's probably worth updating. There are great websites like Fiverr and Upwork that will allow you to outsource design work for a low cost.
Once you have your new logo, start updating your sales & marketing materials. The key here is consistency across all points of contact with a potential customer: your website, social media profiles, contract proposals and any other collateral you have are great places to start. Things like company vehicle wraps look awesome, but they're usually not worth the big out-of-pocket costs when you are just starting your company out. Save bigger purchases like this for when you have some money to play with.
The Four Elements of Modern Marketing
Once you have your logo and have established your brand identity, it's time to make a name for yourself and start bringing in revenue. These four elements are essential to any modern business; even though they might seem intimidating, it's very simple to get started!
Your Website
Most, if not all, of your digital marketing strategies will focus on getting people to visit your website. Think of it as your digital storefront. Getting people here will give you a better chance to speak with them on a more personal level. And luckily for you, getting a website running has never been easier or cheaper. These five sections should definitely be a part of any company website:
About Us – This should feel personal and relatable. Tell people who you are and your business' history. This is your first chance to let people get to know and trust your business.
Services/Resources – This is the best way to show people what sets your company apart. All of your service offerings should be mentioned, but emphasize any of them that are unique or special to your company.
Contact Us – In a very visible place on your website, include at least a phone number and email for general inquiries. Past this, your contact section should include the following items: address, phone number, email, social media links.
Credibility – Client reviews will help build trust in your company. Don't be afraid to ask your best clients for a review. You can also include reviews that people leave on places like Google and Yelp. List any partnerships or associations you have as a way to reinforce your authority as an industry leader. If they're okay with it, list clients that are reputable in your service area can positively vouch for you.
Email – We'll talk about email more in a different section. For now, just make sure there is a visible place on every page for people to give you their contact information.
Search Engine Optimization
Search engine optimization (SEO) helps people find your business online. The higher your website appears on search engines like Google & Bing, the more traffic you will get to your website. Think of search engines as a concierge at a hotel: their job is to give online users the best options for any product or service they are looking for. Optimizing your information online & collecting customer reviews is a business' way of convincing Google that you are the best option.
Let's start by establishing the search engines you should "list" your business on first. Google is king; plain and simple. Having your Google My Business listing completed is the best opportunity for people to find you. Claiming your Google listing is a simple process and can be accomplished by anyone with a gmail account.
How to Claim Your Google My Business Listing
Lastly, you should claim your business on Bing Places. Bing is referred to as the "afterthought search engine." This means less visibility, but it also means less competition for younger companies.
Now that we've established the best places to list your business, here's what you'll need to accurately list your business for free in just a few steps.
Claim your security company listing using a personal business email.
Make sure your name, address, and phone number (NAP) are up to date and correct.
Add important business information. This includes things like your company logo, company description, hours of service, contact information and more.
Select your categories.
Add unique images of your business to increase your brand visibility.
Save all your login passwords for future use and watch your business get more visibility!
Social Media Marketing
Social media has become a must-have part of any business' digital marketing strategies in the past 10 years. Prospects, customers, and potential employees will be looking for you online and will likely visit your social media channels to get a better idea of who you "really are." Understanding which social media sites make the most sense for your business can seem impossible. If nothing else, you should most likely be using these three to get more attention on your business
Facebook, like Google, is the king of the social media kingdom. It should be your highest priority. This article shows you how to create a Facebook business page quickly and easily. When posting on Facebook, use a mixture of photo and video content and make sure to regularly include links to your website in your posts.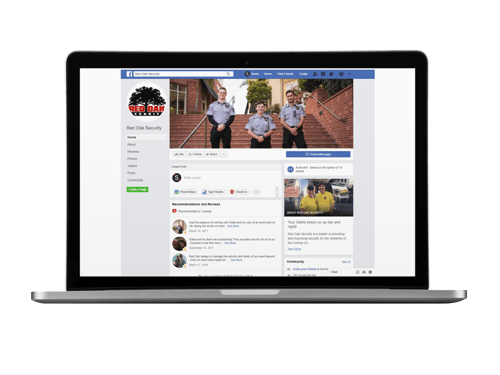 Highlight Your Greatest Work on Facebook
Instagram is a visually-focused social media platform. This is the place you will want to post high-quality, mobile friendly pictures and videos of your team to help people feel like they know you personally. You can also tag people and businesses and use locations to increase how many people see your posts.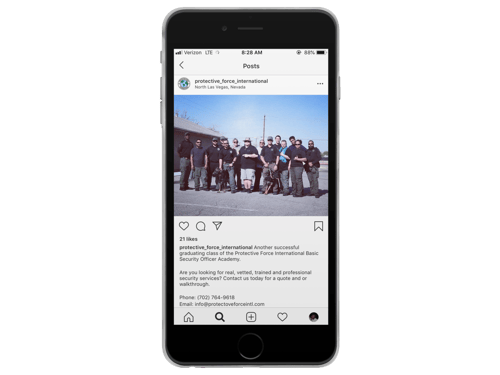 Keep it Mobile Friendly on Instagram
LinkedIn is the most professional social media platform. It's the place you should prove to people your expertise in your industry and a great way to network with other professionals. You can also have employees include your business as an employer on their profiles.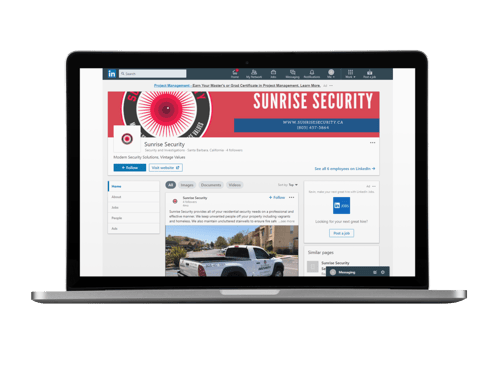 Maintain Professionalism at All Times on Linkedin
Managing Social Media Accounts
Once your social media profiles are set up, it's time to start posting & being "social". Don't let this part overwhelm you, posting to social media shouldn't take very much time. You only need to post about three to five times a week on each social media profile (LinkedIn can be less.) If you use a social media scheduling tool like Hootsuite, you can easily schedule all of your posts for an entire month in just a couple of hours.
The type of content you post is very important. The best piece of advice is to stay personable. Again, social media is how potential customers can get to know you on the internet.
Email Marketing
Email marketing is one of the most efficient ways to gather contact information from interested consumers and makes it easy to stay in contact with them over time. Email marketing is a middle ground for people who haven't committed to your services yet and a way to add value to current customers. In this section we'll go over how and where to get email addresses and what to do with them.
Keep your email form simple. Decide what information will be useful – usually this is at least a name and email address. Seconds matter in the online world, and the longer it takes for someone to fill out your form, the less likely they will actually do it.
Offer something in return. People don't like to go around handing out personal information for no reason. Give them a reason to trust you. This can be as simple as a free consultation or a piece of advice, like this. You can also use this as a chance to give your company more credibility.
Collect emails digitally. We will touch on this again on where to collect emails. Just keep in mind that if you collect handwritten emails, mistakes are likely.
Now that you know how to ask for email addresses, there are two ways to collect them. The first is your website. You should have an email form at least on the homepage of your website, but multiple pages is better. Consider putting a pop-up form when people first enter your website. The other way is in-person. Networking events, personal connections, and referrals are all great ways to get new email addresses. Make sure to get business cards that have email addresses on them or enter them into your phone to avoid handwritten errors.
Once you have a list of email contacts, aim to email them between once a month to once a week, sending out a mass email to all of your contacts. This email is your chance to convince non-customers to pull the trigger and upsell current customers. Offer discounts and give updates on new service offerings. This is also an opportunity for you to build trust and relationship by sending out news and updates about your company or the security industry as a whole.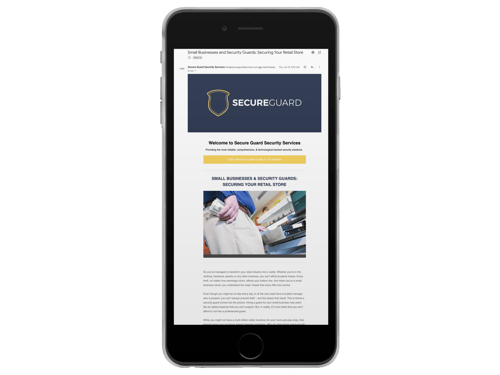 Weekly or Monthly Newsletters Keep Prospects Informed
There are some great email marketing services like MailChimp or Constant Contact. They will help you build lists, write and send emails, and track statistics.
Measuring Your Success (ROI)
Having all of this information is great. But, if you don't know how to measure it, it will be very difficult to know what's working and what's not. Return on investment (ROI) for any marketing decision is critical. There are two ROI metrics that will help you make cost-effective decisions.
Cost of Acquiring a Customer
The cost of acquiring a customer (CAC) is the total sales and marketing cost required to earn a new contract over a specific time period. This graphic is a great way to understand CAC.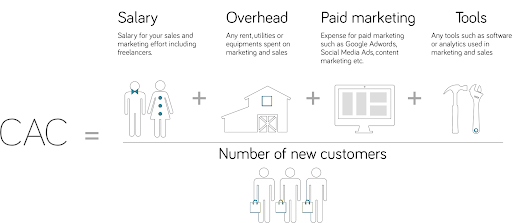 How to Calculate the Cost of Acquiring a Security Contract
The key to this metric is consistency. Pick a time period and always measure that one. This will help make better decisions in the long run.
Customer Lifetime Value
The customer lifetime value (LTV) indicates the total revenue a security business can reasonably expect from a single contract. It considers a customer's revenue value, and compares that number to the company's predicted customer lifespan. This image breaks down the equation simply. Like with CAC, make sure that you measure the same time period every time.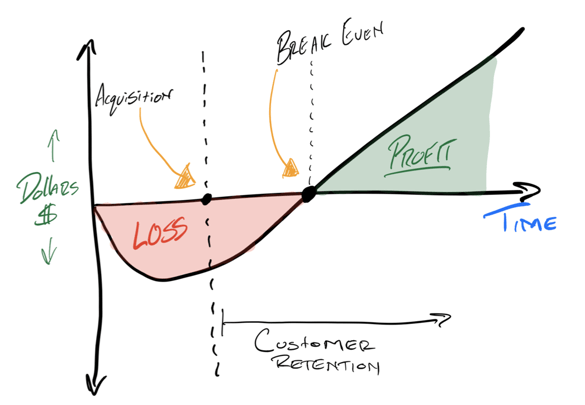 Measure Your Marketing Efforts Over Contract Lifespan
These two metrics will help a lot as you start to track the impact of all of your marketing strategies.
Digital marketing is a confusing world. Without the right focus and tools, it can be easy to get lost in information and spend money that never comes back to your business. By starting simple, cheap, and metrics driven, you can ensure that your digital marketing efforts are not a waste of time.
Share